Welcome to the NES Library!
Jennifer Fojtik - Librarian 979-793-4308 ext. 1620 or 1720 fojtikj@needvilleisd.com
***Book Fair is March 6-10...please come and support the NES Library***
Search our library catalog here:
Check for AR quizzes here: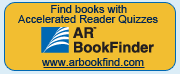 Facts4Me Link
Click above...user name: jays….password: nes
---
Choose another page in this section.